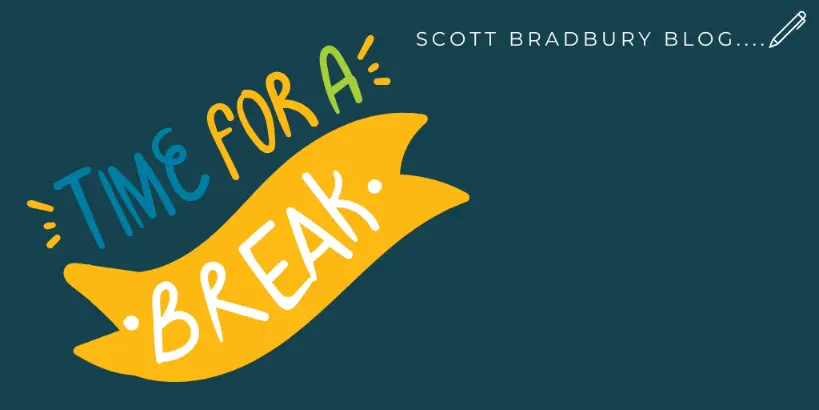 Over the last month each member of the Scott Bradbury team has taken time away from the workplace. There was a long-awaited foreign holiday, a trip to Scotland to attend a wedding, a family holiday to the Peak District and some general time out to have a break from the 9-5. We've each come back refreshed and ready to focus on the next project, with recharged batteries and a sense of wellbeing.
It seems too obvious to state that taking time out improves your health and wellbeing, whether it be spiritual, social, physical, or mental rest – the REST bit is so important. Personnel departments are clear that statutory annual leave for employees MUST be taken, but there's no guidance as to what you should do with that time out. And I question whether there should be. There are those hard-working employees that work until they almost drop and then take time out where the physical rest bit is vital. There are others that thrive on filling their downtime with activities, action-packed adventures, thrill-seeking and don't find time to fit in the unwind bit.
For some there's the temptation to keep in contact with work, to check LinkedIn, to read (and respond) to incoming emails – even though they've got 'Out-of-Office' switched on or emails diverted. Challenging these individuals is important. As a line manager have you sat down and had a sensitive conversation around FOMO, delegation and switching-off? As a Personnel Advisor have you challenged your employees to really take time out? As a colleague have you stopped a peer and shared your thoughts on the value of taking a break from work? And, if you haven't why haven't you?
For those individuals that struggle with pressing pause do you put in support for whilst they are away – ensure things have been handed over, that 'Out-Of-Office' is switched on, that there won't be a pile to wade through on the return to work. And, have you put in place a 'Return to Work' discussion – a formal catch-up to provide updates for those that you know feel sensitive to returning, that feel that they've missed out and are on the back-foot as they step back in?
Do you have a culture where people think that they are showing extra commitment by always being available? Or do you have a culture that values the time-out period and addresses employees concerns in a sensitive proactive way? Do your leaders lead by example? In my working life I've reported into managers who have refused to take annual leave, who have always offered to be available even though they're sitting on a beach sipping margheritas. On the flip side, I've worked with managers who have empowered their teams to take responsibility, who have taken the downtime and stepped away and let others take the reins. I think the latter come back better for it, but there are and always will be those individuals that can't (and won't) switch off.
Is 'leave' the right terminology we should be using? Should it be 'rest' or 'recharge'? Leave brings up connotations of leaving things behind and being left out. I personally think that 'Rest and Recharge' says it all.