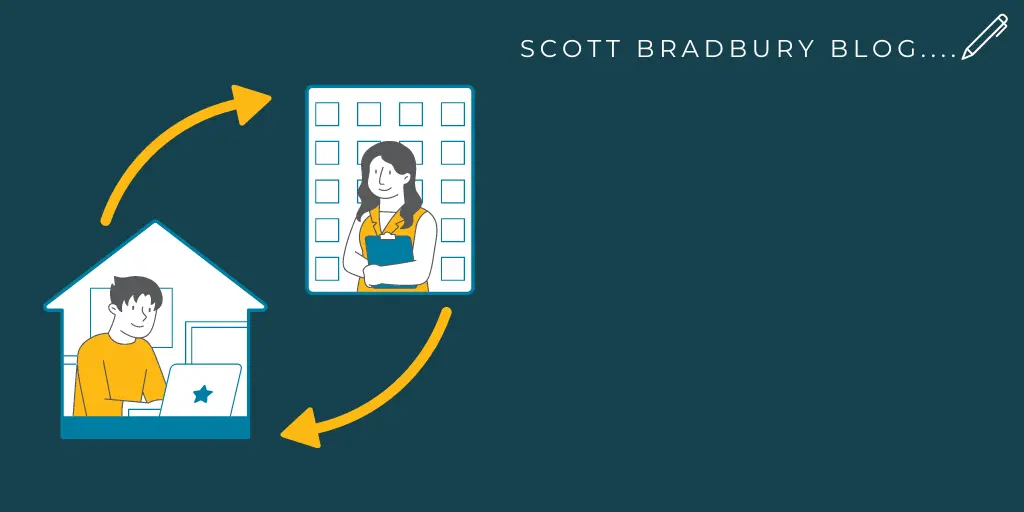 At Scott Bradbury we've truly embraced the hybrid working culture. With office-based team time scheduled during the week and the opportunity to work from home with remote IT set-up keeping us connected. It works for us. But that's because we work at making it work. There are 'Teams' chats, regular check-ins for those home-based days, and the strategic team stuff is covered when we are all together. But does it work for every organisation and for every individual?
I've got friends who are purely office-based, others that are now permanently home-based, and then there's the mixture. And I think it's the mixture of the two that sometimes is the one that we can fall foul of. There are two words I keep hearing "disquiet and distrust". Disquiet from the employees who feel uneasy and uncomfortable with having to be hauled back into the office, where they'd much prefer to have that permanent home base. Distrust from those more senior in organisations who don't seem to accept that when employees are working from home, they really are working from home.
I was talking to an L&D professional last week who mentioned that whilst there was a homeworking culture within the organisation he supports, the reality is that the senior team are of the opinion that employees who work from home aren't being as productive, aren't working as many hours and there is an adverse impact on their business. He commented that this is in marked contrast to the record profits the company achieved last year and in his conversations with colleagues, those who are home working are putting in far more hours and achieving far more than they did when they had to do the daily commute. So, whilst there's disquiet and distrust, there also appears to be a disconnect.
In our 'Hybrid: The Grown-up way of Working' podcast the discussion is centred on building trust, how there should be a focus on outcomes not hours worked and how the three C's are key to success. Those three C's being – Communication, Collaboration and Culture. We all need to work together to improve and better our communication when there's a hybrid mix in play. Collaboration needs to be productive – not just for the sake of it or to be seen to be mixing together. And finally, there's the need to define and communicate how hybrid is going to function in your organisation – so that everyone understands the expectation of your culture.
Is hybrid really new? Remote working has always been around, in a discussion I had the other day a Head of People mentioned how in the past (pre-COVID) she supported a completely remote based team, and this was all via telephone and email. Telephone conversations provided a more intimate personal medium and emails provided the workflow. Video conferencing in those days was something you did in an office board room when connecting with people overseas – not the integrated webcam in a laptop via Teams, Zoom etc. that we see today. She made her connections work then by being available on the end of a phone line and really worked at connecting regularly with those she supported. So, taking a leaf from her book I'd say it is all about maintaining those regular connections and using the software and tools that are within reach to keep communication flowing.
So, with that in mind, I'm finishing here and I'm going to WhatsApp Angie, pick up the phone to Catherine and do a quick Teams call to Jem before the end of the day. Attempting to keep my happy hybrid communications flowing